Click below to watch the Big Dawg Finals Live Saturday. Events start at 8am with the Big Dawg Sweet 16 then moves into the non-stop action of the U.S Open Semis and Finals. Coverage for the Big Dawg Elite 8 under the lights, begins at 8:30pm. Tune in to catch all of the action.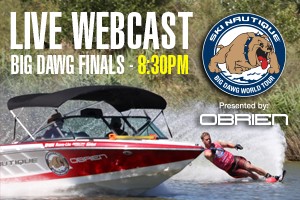 The Ski Nautique Big Dawg World Tour, presented by O'Brien, consists of
  four qualifying events and a series final championship. The series is open to slalom skiers 35 years of age or older who have not placed in the top 10 in a professional water ski tournament in the past three years.  The series final championship includes two rounds of 34 mph record-capable slalom action, followed by a heart pounding, bracketed, 16-skier, head-to-head finale.