2015 Stop #3: Seseña, Spain
July 11th & 12th, 2015 :: Seseña Waterski & Wakeboard Complex

Club Information:
Camino de Servicio de la A-4
Km. 42
45223 Seseña, Toledo
www.botaski.com
Please follow link on website for Directions to see GPS coordinates and detailed instructions.
Tournament Director: info@botaski.com, +34 673 962 426
Registration Information:
Maximum entries to be accepted – 45 skiers
Entry Fee – $200 USD, payable by wire transfer or PayPal (5% credit card fee added). Please contact info@botaski.com for financial information.
Includes banquet ticket for skiers.
Please email entries to:
info@botaski.com
Lodging Recommendations:
NH Collection Palacio de Aranjuez
San Antonio, 22
28300 Aranjuez
www.nh-hotels.com
Phone: +34 918 099 222
Email: nhcollectionpalaciodearanjuez@nh-hotels.com
Situated in the old part of the Aranjuez Center facing the south side of the Royal Palace, occupies an emblematic building dating from the 18th and 19th century. Tournament price will be 72,00 € with breakfast included per single room. 83,00 € with breakfast included per double room. Vat (room tax) will be paid at the hotel. Rooms are limited, therefore we suggest you book your room as soon as possible. Deadline to book your room is June 4th, 2015.
You have to book through reservasnh@nh-hotels.com with booking file number 9392381 (Nautique Big Dawg) to get tournament pricing.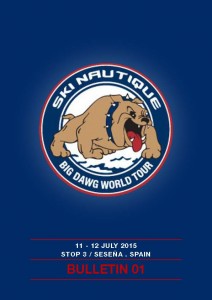 Click
here
to view the full bulletin of event information.
Schedule of Events
Friday, July 10th:
Official Practice
Saturday, July 11th:
Preliminary Rounds 1 & 2
Banquet (on-site)
Sunday, July 12th:
Sweet 16 Finals
*Awards Presentation and pictures to follow.