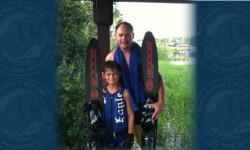 What year did you win the Nautique Big Dawg Finals?
2011
How did you prepare for the 2011 finals? 
Trained harder than I had ever done in the past.  I would run up to six 38's in a row and then go at 39.  By the time the finals rolled around, I was bullet proof at 39.
You had heart surgery just after the finals, tell us what happened?  
I have an electrical AV block in the lower part of my heart which is a defect in the blood pumping ability of the ventrical.  My Mother has the same condition.  I learned of my condition while at work about 7 weeks before the 2011 Finals.  I actually passed out while meeting with a client and off to the hospital I went.  Just a few days out of the hospital and while waiting to see the heart specialist, I decided I would ski in the Southern Regionals and won that event (probably shouldn't have done that).  Once I saw the Cardiologist and learned that my problem was more pronounced while at rest, I decided to postpone the Pacemaker surgery until after the 2011 Finals as I knew I was skiing well, I believed I could win and it could possibly be my last Big Dawg event.  My victory was no coincidence – that's for sure!
I honestly was able to put it out of mind.  I knew from the cardiologist that I was at my best when exercising so it gave me peace to be on the water.
How soon after surgery did you start skiing again?  
I was back on the water five weeks after the October 2011 surgery but had to go back in December 2011 because one of the leads connected to my heart had slipped and my problems had returned.  That second surgery kicked my buttocks both physically and mentally.  Something happened in the surgery that left my shoulder in a bind where I could not raise my arm above shoulder height until just recently. I joked about the cardiologist hurting my shoulder on purpose in an attempt to keep me off the water.  The mental part of it has been a process for sure.  I have to admit that I still worry about the pacemaker leads and how a bad fall might cause a serious problem?  THERE IS NO solution other than to man up and press forward a la Jeff Smith.
How does having a pacemaker affect your mental and physical preparation for a tournament?  
The bottom line is that I skied very poorly last Summer. I was skiing well in practice but for some reason it did not translate to competition.  I was getting extremely winded in tournaments and by the time I got to 39, I was beat.  Then after a poor showing in my title defense, I skied the MM Nationals and opted-up from 35 to 39 and bam, right back into 41 off.  I learned shortly thereafter that my pacemaker is also a regulator so I am still learning how to cope in tournament conditions.   I ran 39 eleven times last Fall – all opt-ups, so I might be on to something.  Obviously the opt-up would be ok for Big Dawg qualifying but the head to head is a different story.  I'm still working on a solution.
What is your skiing strategy when you train?
Go up the line!  "If you don't go – you won't know", quote by Sammy Duvall.
Where do you ski?  
Lake Roper in Winter Garden Florida (Sammy Duvall's old ski school lake)
Who do you ski with?  
Mainly my next door neighbor, Marco Bettosini and son Cooper.  Also, Ben Favret at his lake and Doug Ross when his back is feeling ok!
Anything special you will be doing to prepare for Mississippi?  
I need to get moving.  I recently skied the Okeeheelee Spring Record and while I ran 39 in a practice set before the tournament, my tournament scores were not good at all.  Drew Ross was there and posted 4@41 three times! Ironically Drew and I had a few good matches last fall, most of which I came out on top, but now he is on a new ski and looking like the younger Drew Ross.  I am officially motivated to train if I can get out the court room a bit.
You are very involved with your 9-year old son's skiing, at what age did Cooper start to ski?  
Cooper (coop) learned to slalom at 7.  He is now running 32 off in practice with regularity.
How do you train together as a team? 
Cooper works right into the rotation with the guys and girls on Lake Roper.  Coop skis with me mostly but when I'm working late or out of town, Brenda Baldwin and Marco Bettosini get him on the water.
What do you have him focus on? 
Serious across course direction, in a stacked position, with a level but always on edge ski – this is the goal every set.  Just look at Nate Smith and Will Asher.  Matt Rini has been helpful in the evolution of my coaching with Coop.   If you want to get better – both Wade Cox and Matt Rini are a must ski!
What does he like best about skiing? 
Hanging out on the dock or in the boat.  Coop is a true fan of the sport.
What other Big Dawg skiers does he look up to?  
Marco and Coop are tight and Ben Favret is a great friend of the family.  Coop loves to watch Doug Ross ski (who wouldn't!) but I think Mike Baldwin and Coop have a unique connection.
There some heavy hitters, including yourself, skiing in the Big Dawg this year.   Drew Ross is ripping it, then you have Andy,  Ristorcelli, Dave Miller, Chad Scott, Seth, Kris LaPoint. Larson, Tynan,  Chet, Leach, Big Ben, Badal, Todd Johnson,  these are only a few, there are some new young Dawgs coming in.  It's going to be another exciting year.   
The Big Dawg is certainly one of the most difficult slalom events in the World to win.  Not only does it take superior skiing ability but you also need incredible endurance, mental toughness and a borderline crazy will to win.  I remember sitting in the water during the 2011 semifinal match against Thierry Malhomme where he had just run 6 and no continue @ 39 and the crowd was going wild.  I was tired but the crowd noise inspired me – I recall thinking to myself there was no way I was going to miss 39 and thankfully I got it done against Thierry and once again in the championship match.  The atmosphere at the Finals under the lights is the best stage in water skiing – period!
What boat do you train behind, and does training behind a Nautique help your confidence when it's time for the Big Dawg?  
I train most of the time behind my 2008 Nautique; so it's always nice to get a Nautique 200 in tournaments!
What is your equipment of choice?
Eagle vest, Goode slalom with Powershell boot, Masterline gloves and rope/handle.
PCM has been a supporter of competition water skiing forever.   When you make a decision to purchase a boat, how important is the fact that the boat has a PCM engine? 
PCM is the only boat engine I know – they have been around forever.  So yes – it matters!
Are you on a Nano One now?  What ski were you one when you won the Big Dawg finals?  
I won the Finals on a Goode 65 Mid Ride Nano Twist with ventral fin set up.  I stopped using this ski the middle of last Summer which was a mistake.  After skiing poorly in the Big Dawg Finals, I decided to mount it up for the MM US Nationals and ran 2@41without a practice ride.  Dave Goode then set me up on Nano One and I ran 39 off 11 out 14 attempts last fall with a best of 3@41 at Champions Lake Fall Record (Phil Hughes site).  Both the Mid and Nano One are great skis and I currently train on both.
Congratulations, you join a very special elite group of skiers, the Big Dawg Champions, I know you have had a special relationship with Kristi Overton Johnson, for a very long time.  She was there, that night, to share with you the exciting accomplishment,   how special was that? 
Kristi and her entire family are very special to me. Kristi and I became like brother and sister while training with Wade at Carl's ski school in the late 80's.  At that time, Wade was quickly rising to the top of the World standings and Kristi and I were trying to learn to ski like Wade.  I recall our training sessions where Kristi and I would always compete against each other (friendly of course).  In less than two years, Kristi was winning professional events with regularity.  I started skiing a few pro tour stops, won the Collegiate Nationals and climbed to 14th in the World Standings Fall of 1990. In the Spring of 1991 I blew out my left wrist, which required major surgery, and off to law school I went and my water ski career over.
Favorite right now – Drew Ross.  But look out for two time champ Big Ben who is training harder than ever; Maybe Chad Scott who always wins a qualifier or maybe country strong Jay Leach who loves that Mississippi water.  My sleeper pick is Marco Bettosini who will finally get it done in a Big Dawg event like he did as a professional.    Who knows, maybe, just maybe, the 2011 Big Dawg Champion might get it going again?  You have to BELIEVE!