2010 Qualifiers
June 26 and 27, 2010
Lakes of Katy, Houston, Texas
Of the 45 Big Dawg skiers, 31 different skiers ran 38′ off during the preliminary rounds.  In total, 38′ Off (or 11.25m) was run a total of 68 times between the preliminary & head to head events.  39′ Off (10.75m) was run a total of 14 times (8 times in prelims & 6 times by 5 different skiers during the head to head).  Additionally, Bruce Dodd kept our TC busy this weekend with two performances (both 1.5 @ 41′ off) which will be submitted for Canadian National Records.
RESULTS
Todd Johnson won the opening qualifying event for the 2010 O'Brien Big Dawg Slalom Series Championship, presented by Nautiques, on Sunday at the Lakes of Katy in Katy, Texas.
MORE LINKS
PHOTOS  (View Gallery)


ENTRIES POSTED
McCreary, Joseph
Treat, Sandy
Dodd, Bruce
Kelley, Eric
Beaman, Donald (Scratch)
Korinek, Kreg
Shealy, John
Baker, Chad
Kuykendall, Todd
Thompson, Mike
Kuykendall, R Greg
Raley, Chet
Jones, Scot (Scratch)
Austin, Marc
Larson, Scott
Scott, Chad
Johnson, Todd
Alexander, Robbie
Goode, Dave
Haines, Hutch
Miller, David
Baldwin, Mike
Malhomme, Thierry
Butterfield, Bruce
Kepchia, Jeffrey
Goodson, Jerry
Hintringer, Harald
Arora, Michael
Binkley, Steven
Crow, Todd
Dehlinger, Mike
Drozd, Dean
Huston, Tim
Shaw, Marc
Bettosini, Marco
Leach, Jay
Shea, Joe
Ellis, Scot
McLain, Ward
Heinz, Matt (Scratch)
Danos, Jeff
Kilsdonk, James
Joe Pound (Scratch)
Jeff Smith
Mike Munn
Steve Ware
Greg Badal
Steve Raphael
Kyle Tate
Scot Tynan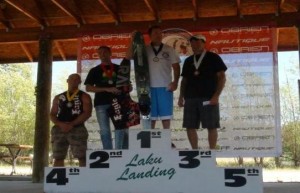 August 28 and 29, 2010
Laku Landing, Denver, Colorado
The 2010 O'Brien Big Dawg Slalom Series, presented by Nautiques, continued this past weekend with the second and final qualifying tournament taking place on Saturday and Sunday in Windsor, Colo. Matt Brown (Chico, Calif.) won the event, scoring 4 buoys at 39-1/2 feet off in Sunday's head-to-head finale against Canada's Todd Johnson, who scored 3-1/2 buoys at 39-1/2 feet off.
The sweet 16 finalists from the tournament automatically qualify for the 5th annual series championship, which will be held Sept. 25-26 at the Isles of Lake Hancock in Winter Garden, Fla.
MORE LINKS
ENTRIES POSTED
Austin, Mark – TX
Beaman, Don CO
Bishop, Kevin – CA (Scratch)
Brumagin, Lex – NY
Bruni, Mike – OH
Dodd, Bruce – CAN
Gattshall, Mark WI
Goode, Dave –UT
Hintringer, Harald – FL .
Huston, Tim -FL
Mccolley, Ted – OH (Scratch)
McCreary, Joe – TX
Korinek, Kreg – AZ (Scratch)
Nate, Jeff – WI
Miller, David – OH
O'Keefe, Brian – CO
Raley, Chet –FL
Schaefer, Conrad –CO (Scratch)
Shealy, John – FL
Treat, Sandy – CO
Ware, Steve – AZ
Favret, Ben – FL (Scratch)
Goodson, Jerry – OK
Jones, Scott (Scratch)
Johnson, Todd – TX
Milford, Jeff – UT
Leach, Jay – MS
Parsons, Mike – UT
Smith, Jeff – MI
Goodson, Jerry – OK
Tate, Kyle – FL
Scott, Chad – LA
Barney, Rod – VA
Brown, Matthew – CA
Kepchia, Jeff – FL
Larson, Scott – CA
Levines, Gene – VA
Bettosini, Marco – FL
Kuykendall, Todd – OK
Dehlinger, Mike – FL
Brandt, Mark – WI
Janzig, Darren – MI
Drozd, Dean – TX
Ross, Doug – FL
Contos, Kim – IN (Scratch)
LaPoint, Kris – FL