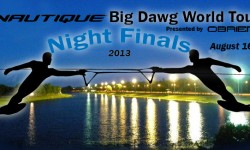 The preliminary rounds had the best conditions and the stage is set for the most exciting event of the year.  The night finals is a test of skill as the qualifying Big Dawg Skiers compete under the lights adding another degree of difficulty to the competition.  Join us at Okeeheelee Park in West Palm Beach during the Goode U.S. Water Ski Nationals for this show of athleticism and endurance behind the Ski Nautique 200.
Big Dawg Running Order PDFBig Dawg Live Brackets
Senior Tour Running Order PDFSenior Tour Live Brackets
NAUTIQUE BIG DAWG WORLD TOUR FINALS SCHEDULE
Thursday, August 15
Nautique Big Dawg 40 Skiers Prelim
8:00am – 5:00pm
Main Lake
Thursday Prelim Results To be posted after the event
Friday, August 16
Big Dawg Sweet 16 Head-to-Head
3:00pm - 5:00pm
East West Lake
Take down to Elite 8
Nautique Senior Tour Prelim
16 skiers head-to-head off the dock
4:00pm – 6:30pm
Main Lake
Take down to Final 4
Nautique Senior Tour Final 4
8:00pm - 8:45pm
East West Lake
Elite 8 Big Dawg Skiers
8:45pm - 10:45
East West Lake – Under the lights
____________________________________
HOST HOTEL
Embassy Suites
1601 Belvedere Road
West Palm Beach, FL 33406
AIRPORTS
Palm Beach International Airport (PBI)
7 miles  (10-15 minutes)
Northeast of  Okeeheelee and services most major domestic airlines.
Ft. Lauderdale/Hollywood International Airport (FLL)
45 miles (approx. 50 minutes) south of West Palm Beach and services most major domestic airlines and several international airlines