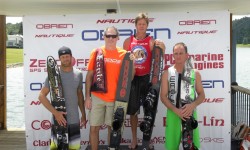 SUNDAY FINALS
The two legends of the Nautique Big Dawg World Tour went head to head for the final two on Sunday.  Ben Favret challenge Dave Miller and Miller with both running a trying 39 after two days of skiing.  Dave Miller put up a score of 2 at 41 and Favret came back with .5 at 41 giving Dave Miller the title of the Big Dawg of Michigan.  Thank you to all the sponsors and our gracious hosts Jeff, Patty and Whitney Smith.  A special thanks to all the sponsors who help contribute to the different and exciting show of water ski athleticism.  Also, thanks to the skier who dedicate their time and passion for this sport and to Nautique for bringing us this series.  See you at the finals in West Palm Beach!
SATURDAY PRELIMINARY ROUNDS
It was off to a slow start this morning with only a few guys getting into 41 off in the first round.  But after the warm-up, the Big Dawgs were fighting to get into the Sweet 16.  Weather was not a factor.  There was no wind and sunshine all day.  Water temp is about 80 degrees and the shore lined with cheering spectators.  Congratulations to the Sweet 16.  Start time 9:00am on  Sunday.
FRIDAY SITE REPORT
Lake Conditions – Like butter
Weather – Calm, no wind, blue sky
Water temp – 80 degrees F
Air temp 85 degrees F
Skiers – Ready to go
Time Zone – Eastern
Twitter –  Follow @skibigdawg
Location
Jepawhit Water Ski Club
Lake Jepawhit
Gaines Township, Michigan
Lake Jepawhit is located at 9209 Baldwin Rd. in Gaines Michigan 48436. From Flint Bishop International Airport FNT only 15 minutes. From Detroit Metro Airport DTW one hour.
Entry Fees
$180.00- Checks made to BAREFOOTING UNLIMITED INC. WE ALSO TAKE VISA-MASTERCARD-DISCOVER. Must have all paperwork and fees paid in full to be considered officially entered in this tournament.
Deadline is 7/1/2013
Late Fee – $10 per day
USA WATER SKI ENTRY INFORMATION 
BIO - Online
Send Entries to:
Patti Smith-Big Dawg
4037 W Silver Lake Rd.
Fenton, MI 48430
810-343-6358
sssports@silverspraysports.com
Accommodations
Fenton-Fairfield Inn-810-629-0400. Fenton-Holiday Inn Express-810-714-7171. Flint-Holiday Inn Gateway Center-810-232-5300. 15 minute drive from each hotel to the ski site.
Grass air strip available at Lake Jepawhit ski site with prior approval by site owner. Please contact Jeff Smith at 810-343-6357.  Also Price-Linden Airport available with paved runway for small plane accommodations 7 miles from ski site.
Practice
Practice will be run at the site on Friday July 12 with start time TBA.
Schedule
Saturday July 13-8AM Sunday July 14-9AM Subject to change-weather permitting.
Saturday July 13 two round qualifiers. Saturday evening on-site banquet. Sunday July 14 slalom Head-to-Head Finals and the presentation of cash awards. Subject to change.