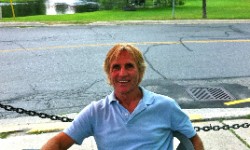 Today at the Lakes of Cypress, it was a busy day of preparation for the weekend's event.  David West, our host was busy zooming around on his golf cart making sure all was in place.  There weren't very many photo opportunities, but you could see the look of concentration the competitors have; so we left them to their thoughts without adding the pressure of the annoying camera girl. 
The lake skis very well and there was only a slight tail wind off the dock for practice.  The concensus was that the water holds the ski tight and slows down quickly going into the turn.  Good angle behind the boat will be key this weekend.  Cypress has a bright blue colored water with the Goode bubble buoys floating at just the right height on top.  The temperature of the water is a bit cooler than what you would anticipate because the air temp is so darn hot. 
Mark Shaw, was sizing up the water conditions.  But this year don't look for the striking blonde on the water, Mark left those of us in the blonde skier club and is now wearing black locks.  Seth Stisher is hanging out with the old guys now and I asked him how he felt about that and said he hopes he can keep up.  Ben Favret is skiing strong but after a long injury, would like to feel 100 percent again.  George Levien was roaming the site and when asked about his skiing, he said he is just happy the port-o-lets arrived.  Tim Huston in Houston is happy with his skiing this year.  He looked good on the water, so we may see him at the top of the list. 
There was a lot of interest in the contest for the final 4.  Tournament Director, Greg Davis
has his work cut out for him tonight as he tallys up the votes.  If you read this by 7:00am Saturday morning (Texas time), you can still get in on the poll. 
The Nautique 200 boats were purring down the lake all day with most of the Big Dawgs taking two sets.  Becky Lathrop at the wheel.  Tim Cost will also be the other driver for the weekend.  There was a lot of pacing around with the head down stare at the ground looks as the Big Dawgs anticipate the first qualifier of the series to begin.  Good luck to all the skiers and give a shout out to your favorite via twitter @skibigdawg. 
The day finished with a relaxing reception dinner given by Nautiques with yummy food and desserts.