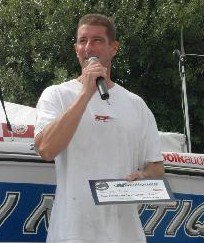 Greg Davis, Tournament Director asked the guys a few questions about their training this year.  Are you ready?  How is practice going?  What ski are you on?  Who is the toughest competitor for Texas?  What score do you think it will take to win?  Here are some answers.
Unfortunately, I will not be able to attend the event in Texas.  But already signed up for the Michigan Big Dawg.  Practice has been limited due to work.  I am skiing on a D3 X7 now.  I definitely think a consistent 2 or 3 at 41 in all the rounds will be required!  I am looking forward to a great summer.
I am feeling pretty good about my skiing.  Practice has been going pretty well, so I am anxious to get out there.  I am on a Goode 9900SL.  The skier to beat?  That's a difficult question.  There are always a lot of great competitors at these evetns.  Todd Johnson skied amazing last year.  Ben Favret is always one to watch out for.  Bruce Dodd ripped it up in 2010.  We can't forget about the defending finals champion Dave Miller.  Chad Scott tore it up last weekend.  There is also Chet Raley and Greg Badal.  Wow, I just can't pick just one.  No doubt, with a nice site like Cypress, 39 will have to go down…several times for the winner to take this one.
I won't be in Texas but ready for Michigan.  Practice is going pretty good.  Nothing new in the Dawg House except my 2011 200.  I am on a fresh X5.  The toughest competitor for Texas will be Chad Scott, Todd Ristorcelli and Todd Johnson.  I think it will take 2 at 41 to win.
Am I ready?  Not really!  Our weather sucks.  It's still early for me and Chad and the guys down South are skiing awesome.  I will have to try and step it up a bit, but at this point I don't know who is the one to beat.  It could be Chad, Todd R, Todd J, anyones guess.  I will be skiing on the new Nano.  See you soon!
I have not been skiing much and just got back on the water within the last two weeks.  I had some back issues that forced me off the water in early April. I am working with a ski from RADAR that is really special.  It is a 2011 STRADA, softer flex, with the newest binding set-up.  It is very fast and I am enjoying how easily it completes the off-side turn and keeps the tip down. 
I have skied at Cypress last year.  It is a great place to ski and I expect the scores will be ghihg.  I predict may 3 at 10.25m fro Chad Scott, Dave Miller or maybe Jay in the qualifying rounds.  It would not surprise me to see a couple of the Sunday brackets where both skiers run 39 and someone needs a piece of 3 in order to continue.  .  Who will win?  I expect there will be at least 15 skiers on the dock that can score 2 or better at 41 off, so I will wait to see who brings their "A" game.  Ask me again on Saturday night!
Former Masters Champion Marc Crone making his Big Dawg Debut in Houston along with fellow Ski Bama Swerver Seth Stisher and Water Ski Magazine Editor Todd Ristorcelli.  A few other new names on the list looking join the in good times and great skiing.  The field keeps getting deeper and stronger.  GREAT SKIING Last week Chad.  Can't wait to get back on the water with all you Dawgs.  See you in Houston, gonna be a good time!