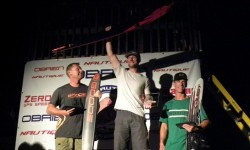 The Senior Tour had a cheering crowd for the head-to-head format straight off the dock.  For the Big Dawg skiers who did not make the 40 final skiers for the World Tour, there was the opportunity to participate in a head-to-head challenge.  The 16 skiers were narrowed down to the Final 4 and they swerved under the lights just before the Nautique Big Dawg World Tour got underway.
The final two came down to Todd Crow who ran 3 at 39 off and Mark Johnson getting 3 at 38, crowning Todd as the Senior Tour Champ under the lights.
Thank you to everyone who participated and all the sponsors for your dedication to the series.
Senior Tour Final Brackets