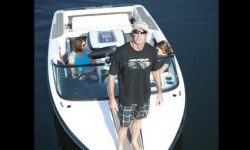 FROM ANDY MAPPLE AFTER THE FIRST ROUND IN FRANCE
A few rain delays for heavy rain drops and then sunshine!! It felt very strange to be on the dock again in an event that actually mattered for getting to another round (finals). I had forgotten what it was I used to do before I skied, and I felt a little like fish out of water!!!  Not sure if I was more nervous about not having competed for a while or the fact that I was skiing in an event on a ski that we built. 
I was very stiff and nervous the first couple passes, but then I remembered the feeling! After 38off,  a 55m buoy came off and we had a 5-6 minute delay and then I had to go back straight in a at 39 and then 3 at 41. Thierry and Fabrizio followed with 1.5 at 41 (10.25 meters) and 3.5 at 39 (10.75 meters).  Another round today (or this evening) so I am happy I got that first round out of the way. 
Thierry and his Wife have done an awesome job with this event. It is great to ski again. Great to have my familiar Nautique 200 as the tow boat and it is  nice hear all the compliments from those who do not get to ski behind it all the time.
Time to go have a little lunch, French style!!!
Andy
Interview by Greg Davis, Tournament Coordinator
Greg: 
Andy, what are your thoughts regarding stepping back into the ring and skiing competitively again?  
Andy:
It felt a little strange when I was packing my bags knowing I was going to a ski tournament again!  I am looking forward to competing again, and I am sure will have some very interesting feelings Saturday morning on the dock. 
Greg: 
I know you've been a supporter of the Big Dawg Since it started in 2004.   This is your first Big Dawg as a competitor,   what's going through your mind?
Andy: 
I like the Big Dawg series and what it does for the sport.  Being a competitor in the Big Dawg will be fun. This a great group of skiers and fantastic athletes.  Nothing can be taken lightly.   I think there are a lot of expectations as what and how I will ski!   I was blessed with a great career in skiing and when I competed, I was very focused and competitive.  After retiring in 2004 priorities have changed.  Coming back onto the starting dock, I am just not sure if the mind might be writing checks the body cannot cash!!!
Greg:    
How about your preparation for this first Big Dawg, I assume you've been training?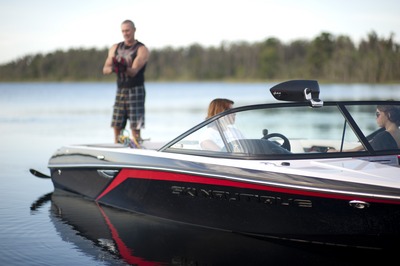 Andy: 
I cannot say that I have been training for the Big Dawg.  We have been very busy working on skis and designs, which has meant skiing, but more of a standpoint of testing than training.  However, I have been getting out there, so I do have some skiing shape. 
Greg: 
New Ski Company, tell us what's going on there. 
Andy: 
We have started a new ski company (Adam Cord and Myself) in Orlando FL.  We started in November with a completely empty building and have built a nice manufacturing facility with our own private test lake next door.  This has taken most all of my focus the last few months.  It is kind of a strange feeling too to be at an event and have a ski that was built in our own factory!  AM Skis began production this week, and I snagged as many as I could fit in ski bag!
Greg: 
Hope you qualify, many, many fans and all the Big Dawg skiers are looking forward to watching you ski and also to compete against you at The NAUTIQUE BIG DAWG WOULD TOUR FINALS in West Palm Beach this August.
Andy: 
I really appreciate all the support I have received with regards to skiing in the Big Dawg.  It is an honor to compete with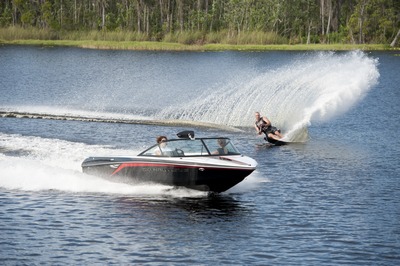 these guys and become a part of this group.  I hope I qualify too, but if not, I will still be at the Finals in West Palm Beach to support the Big Dawg. 
Greg: 
I know you're very involved in bicycle racing and I understand you had an opportunity to be involved with the Tour de France. Tell us about it.
Andy: 
It actually did not work out this year because I would have needed to be in France on Tuesday to particpate in the Tour de France, but we had too much going on at the factory.  Thierry Malhomme had it setup for me.  We already talked about it and next year we will make it happen. 
Greg:   
I have about forty questions for you; however we'll talk again when you get back to the states.
Andy: 
I actually have a bunch of questions for myself……LOL
Greg: 
OK, good luck this weekend.  You'll have some very stiff competition.   
Andy: 
Thank you.  It will be a fun weekend.