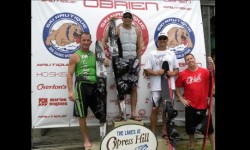 Sunday, July 1st, 2012
Chad Scott battled his way to the top of the podium against Mike Dehlinger, Todd Johnson and the final pairing with Jay Leach.  The day started off with a heavy rain followed by excellent conditions.  Chad skied in perfect form and consistency throughout the weekend.  All Big Dawg skiers gave it their best and it was an exciting weekend of performances.  We are still waiting for one of the athletes to run 41 off sometime this season. 
The skiers were pushing their limits in the head-to-head as Marc Shaw gave an example in his fall across the wakes into shore. 
Thanks to The Lakes at Cypress Hill and our hosts Dave and Terry West.  The hospitality and organization of the residents and volunteers made a well-organized event.   A special thanks to all our sponsors and officials that support the Nautique Big Dawg World Tour presented by O'brien. 
Congratulations
1st – Chad Scott
2nd – Jay Leach
3rd – Greg Badal
4th – Matt Brown