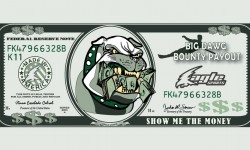 Eagle Sports is happy to be offering the Nautique Big Dawg Bounty for 2012.  Masters level skiers competing in the Nautique Big Dawg Slalom Series are eligible for this program.
The program is very simple.
1 – Compete in one or all of the following events while wearing an Eagle slalom ski vest:
-    Big Dawg Qualifier 1 – Cypress
-    Big Dawg Qualifier 2 – Canada
-    Big Dawg Finals – Florida
2 – Place 1st, 2nd, or 3rd
3 – Wear an Eagle vest, Eagle wetsuit or Eagle logo hat on the podium and make sure you get a picture.
4 – Email picture proof of you on the podium to sales@eaglesports.com.  Be sure to provide us with your name, address, and phone.
Note:  Prize amounts are in US Dollars.  Eagle reserves the right to change or cancel this program at any time without notice.