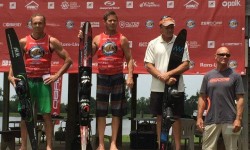 Dave Miller had a fight with the Big Dawgs in Mississippi with tough competitors and feats of stamina and strength.  The final 16 went head-to-head Sunday morning with top skiers from around the world.  The final two skiers were Harald Hintringerversus DaveMiller.  Harald was in it till the end but turned one ball at 39 just a little too much and left the door open for Dave Miller.  Dave Miller came behind to run 39 and capture the Dawg title.
The weather was cooperative and just a slight tail wind off the dock made the playing field slightly more challenging.  Jeff Rodgers was a favorite to win, but he found out that it was not as easy with this seasoned group of athletes.  See his comments and others here:
Thanks to all our sponsors, officials, skiers and everyone involved in making this an exciting event around the world.  A special thanks to Obrien for supporting the series and helping to create a refreshing spectator sport.
Official Prelim Scores
Live Brackets
Preliminary ReCap
Friday was a calm day of practice with skiers pacing the dock in anticipation of the weekend's competition.  Many skiers took advantage of a practice set behind drivers Tim Cost and Becky Lathrop.  The conditions remained calm with a slight texture on the water and an occasional sprinkle of rain.
Saturday's fun began promptly at 8am and the first skier to take the water was legendary Ham Wallace.  Ham skied the first Big Dawg back in 2004.  We also welcomed new dawgs on the block, Jeff Rodgers and Jason Seels who proved Big Dawg status with good scores.   Ward McClain came back strong after two broken legs last year and ran 39off in both rounds.  Chet Raley was looking strong and focused with his solid style and attitude.  Jed Blackburn had the most spectacular falls of the day with a double front flip and a proper binding release mid-air.   There was an hour delay for lightning in the area and skiers were on the water well after 7:00pm.
The brackets are a very close match-up and Sunday will be a day you don't want to miss.  Check with us on Twitter @skibigdawg and follow the live brackets.  A few statistics of the day:
38′ off (11.25m) was run 56 times by 33 different skiers
39.5′ off (10.75m) was run 22 times by 15 different skiers
Follow the Dawgs
DATES:
June 28-29, 2014
SKIER INFO
LOCATION:
Cedar Ridge Ski Lake, Canton Mississippi
Tournament Drive, off Robinson Road
10 miles East of Canton, MS
GPS Location of lake 32 37 34.74 N 89 52 45. 78 W
For GPS address, enter Skiers Point, Canton, MS.
Tournament Drive is 700 ft. East of Skiers Point
Cedar Ridge Directions & Site Map
Skier Travel Info
SCHEDULE:
Saturday,  June 28, 2014
2 full qualifier rounds 7:30am
32-off (13 meters) max starting line length
Banquet following tournament.  Details to be announced.
Each skier registration includes lunches and a banquet ticket.  Additional banquet tickets will be available on-site.
Sunday, June 29, 2014
Photos at 9:30am
Head-to-Head with Sweet 16 at 10:00am
Details for a Class C slalom tournament on Lake 2 to be announced.
PRACTICE:
10:00am on Friday
$20 for 4 passes
Practice rides may be available on Lake 2 during the tournament on Saturday, details to be announced.
Lunch will be available on-site Saturday and Sunday
Banquet Location and Map
TRAVEL:
Airport
Jackson, Mississippi (JAN)
From the airport, the site is 42 miles
Car Rental
Car rental is available at airport
Camping
Limited camper electrical hookups available
$20 per night
Must be reserved and paid with entry
Hotels
All hotels listed are in Canton at exit 119 (MS Hwy 16) off I-55N
La Quinta Inn & Suites
152 Soldier Colony Road, Canton
Hampton Inn
133 Soldier Colony Road, Canton
Americas Best Value Inn
119 Solder Colony Road, Canton
Best Western
137 Soldier Colony Road, Canton
Holiday Inn Express Hotel & Suites
157 Soldiers Colony Road, Canton
Quality Inn & Suites
125 Soldiers Colony Road, Canton
Days Inn
123 Sidney Runnels Dr., Canton
Brentwood Inn & Suites
145 Soldier Colony Road, Canton
Numerous other hotels at I-55 Exits 108 (Madison) and 105 (Ridgeland), 10 to 13 miles south of Canton.