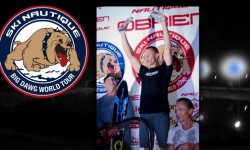 Todd Ristorcelli, became the 2012 Nautique Big Dawg Champion and made quite an impression on the cheering spectators that lined the shores of Okeeheelee.  Ristorcelli defeated Great Britain's Andy Mapple in the head-to-head finale to clinch the title.
The last pair of the sweet 16 was interupted by a storm and Matt Brown and Scott Larson were put on a lightning delay.  When the lightning cleared, Brown and Larson went head to head and Brown won the challenge.  Luckily, there was a calm after the storm and perfect conditons were in order for the night finals.
With the bubble buoys and the Nautique 200 bow lights glowing, the night skiing was something to see.  Both shorelines at Okeeheelee were lined with fans of all ages enjoying the energy of the night.   Spectators near and far watching the webcast were also interested to see how the legend Andy Mapple would finish. 
Thanks to the sponsors, skiers, spectators, volunteers, officials and Ski Club of the Palm Beaches for being a part of this water ski event.  See you next year!
To see all the finalists view the FINAL BRACKETS