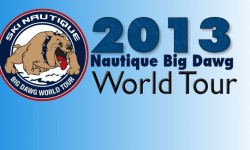 Get ready for another fantastic season of Big Dawg action.  Please welcome our 2013 Nautique Big Dawg Tour Stops hosts.  More information will be available soon.  Save the Dates.
Cedar Ridge, Mississippi:  June 29-30, 2013
Entries not accepted until February 18, 2013 at 8:00pm, Eastern Time.
Must have current USA Water Ski Membership when registering.
Fenton, Michigan:  July 13-14, 2013
Baurech, France:  July 6-7, 2013
West Palm Beach, Florida Finals:
Qualifying Rounds – Thursday, August 15, 2013
Final Head to Head – Friday, August 16, 2013
Nautique Senior Tour - Schedule to be announced